Your Marketing Problems May Be Deeper Than You Think
Sep 06, 2023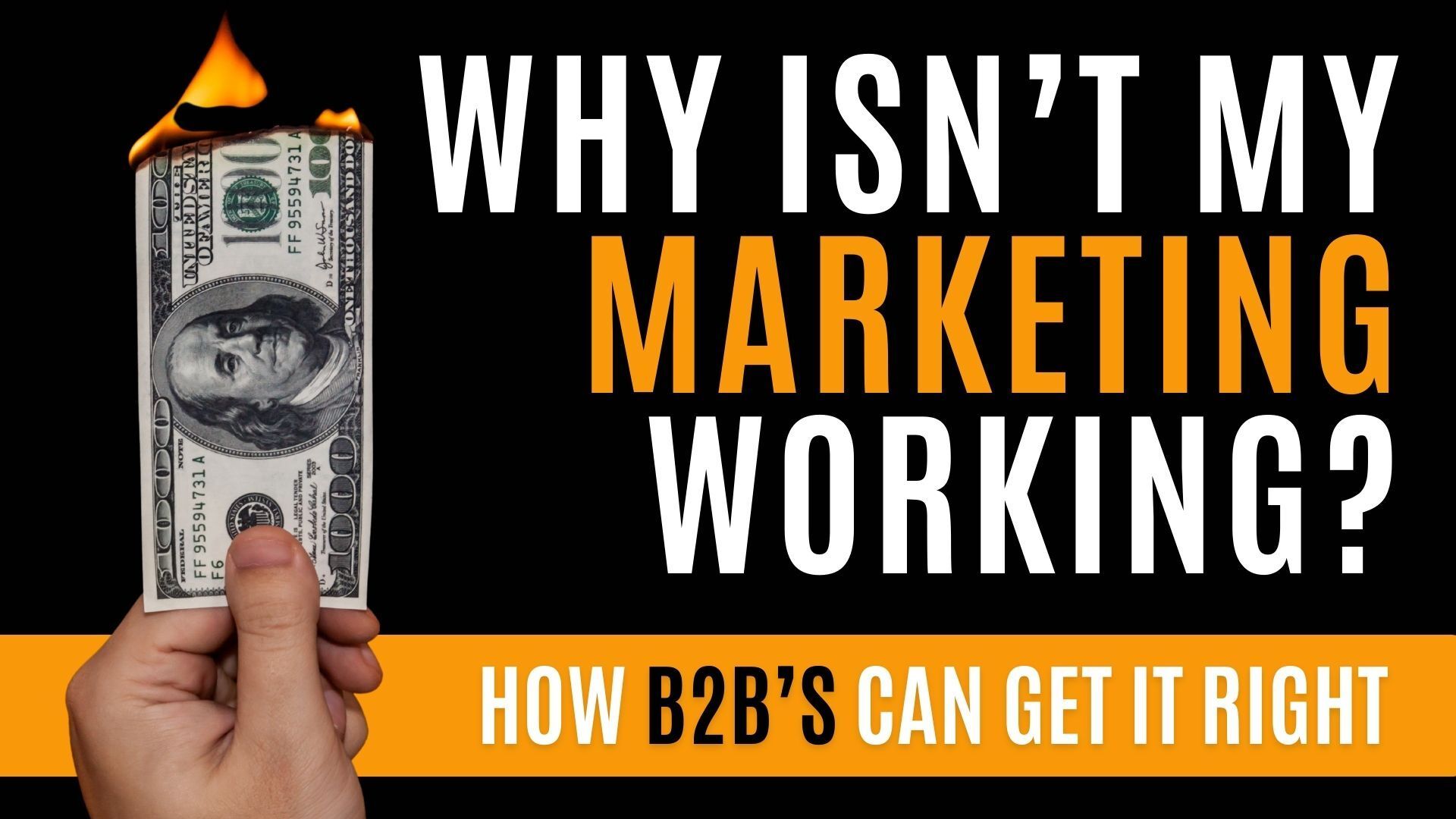 John told me, "Marketing just isn't effective."
Maureen said, "Marketing is a necessary evil!"
Albert went further and told me that "Marketing is so hit and miss - it's frustrating!"
These were experienced business owners who grew their businesses over many years of excellence - in a variety of industries.
And it's ok. Admit it. You've had these thoughts, too!
You might have explored various hyped-up marketing tools, invested in online advertising, attended pricey trade shows, or hosted countless promotional events. But the outcome remains the same: minimal new customers. Sometimes, the only strategy that appears fruitful is word-of-mouth, yet it's not as robust - or predictable - as needed.
Why hasn't any tactic cracked the code?
The underlying problems with your marketing could stem from deeper foundational issues. Here are some of the deeper issues that no platform, campaign, or silver bullet can fix.
The Answer is Your Strategy, Not a Silver Bullet
To make sure we are using shared language, here's what a strategy is NOT:
Running digital ad campaigns

Trade Shows

Blogging + SEO

Referral Incentives

Etc…
Those are components of your strategy, but your strategy is deeper. When we talk about strategies, we are taking a systematic view of your business. At its best, your business is a SYSTEM - all focused on generating profitable revenue. Your marketing is just one part of it, albeit an important one.
You can spend painful amounts of money on people and tools that are actually great – and get little to no growth if there are problems in other areas of your revenue system. That's what we're getting into today.
A significant cause for marketing woes is the absence of a well-defined strategy. Are you employing tactics without a coherent plan in mind? Just like a shopper purchasing trending products without understanding their needs, success in such scenarios is more coincidental than planned.
Unclear Target Audience
One of the challenges brought on by growth is that you're constantly finding new ways to grow your offers to serve more clients. As a consequence, this diversity makes it challenging to tailor a message that addresses everyone's concerns. The outcome? A watered-down value proposition.
Add to that the fact that the business landscape has changed dramatically, even in just the last few years. Your ideal client may operate in a totally different way than when you first set up your strategy.
This is where it's critical to reassess your target audience.
Here are a few questions I like to ask:
If we could clone our 3 favorite clients, who would they be and why?

Do we have a differentiated value proposition, and why does it matter specifically to our best clients?

Are we focusing too much time and resources on projects that don't align with our best customers' needs?
Inconsistency
I've seen inconsistency affect businesses in two different ways: frequency and messaging.
Like any task we put on the back burner, companies tend to deprioritize marketing until something goes wrong. The challenge is that your marketing is at its best when you have a steady, sustainable pace. If you want your brand to build relationships with your audience, you can show up only when it's convenient.
On the other side, with messaging – it can be hard to stay focused on what matters most when you're trying to stay consistent with frequency. Everything that your brand creates should highlight your core value proposition from a different angle. Remember that your audience may only be hearing you through select soundbites. What is most important for them to remember?
Lack of Ownership & Accountability
This one piece of advice may be the most important practical tip I can give. Marketing is an in-depth discipline that requires consistent ideation, implementation, and performance monitoring. For any "sounds promising" strategy to work, you need a key decision maker to take ownership.
Who is this in your business? Who embraces the accountability of seeing your marketing through till it's working? If it's a group effort, who ultimately keeps their eye on the results? In my experience, the first plan is never the one that sticks, and you need someone to embrace the decisions that arise.
Limited Budget
While some marketing strategies can be bootstrapped, others necessitate a substantial budget for real impact. This is an important question, especially if you are struggling to re-ignite growth. It's helpful to ask questions like:
Is there a minimum investment to achieve the quality and impact we need to generate revenue?

Are there other investments we need to budget for to complete our strategy? (Ex. don't overspend on a new website and hamstring your promotional strategy)
Resistance to Change
Some seasoned owners have a knack for sticking with what they know, even when it stops being effective. It's important to be willing to explore new strategies, especially coming from people who are more immersed in marketing strategies.
It's also worth noting that your sunk costs aren't always a good argument for staying the course. "But we've already spent $20K on this campaign! We need to keep going!"
It's important to know when you pivot, even if it means walking away from an expensive mistake. So yes, don't chase shiny objects, and don't panic when marketing takes time to get going. But also know when it's time to change course.
Are there any marketing tactics we're continuing to use that have slowed or stopped on results?

Do we know people who can help us identify new, effective marketing strategies in our space?
Finding the Strategic Sweet Spot
Successful marketing isn't about chasing a magical one-trick-wonder. It revolves around strategy, adaptability, consistency, and dedication. So, if you ever find yourself thinking, "Marketing is fruitless," take a step back from tactics. It might just be time to talk about strategy.
We help B2B brands between $2M and $30M in revenue unlock questions like these. If your marketing has been consistently frustrating, we can help you assess your revenue system. Our process helps you pinpoint what in your strategy prevents your marketing investment from generating new revenue growth.
To see how we do this, take a look at our proprietary model: The Revenue Throughput System. I think it provides a clear, systematic approach to diagnosing your revenue blocks. Better yet, we'll show you how to fix them.