THE COMPETITIVE EDGE PROGRAM
You have a successful business but it's
stopped growing.

And it feels like you've tried every tactic in the book.
Does this sound familiar?
---
You're an established B2B company, generating $2M or more in revenues each year, but:
Your sales are flat or declining

You have to cut prices to win deals

You're getting fewer "at-bats"

Your customers are always "weighing their options"

Your competitors seem to be growing just fine, yet you're losing ground.
These symptoms point to one thing: your business has lost its competitive edge.
Wait, what's a competitive edge?

It's how you outperform your competition. It's how you win.
Branding agencies will tell you that to win you need a whole new look. Marketing agencies will say you just need to try their tactic—whether that's social, SEO, content, or all of the above. Sales training companies will say you just need a better sales methodology.
You get the idea…to the hammer, all the world's a nail.
But your competitive edge is about much more than just one tactic. It has to be a winning combination of:
A

value proposition

that sharply aligns to your ideal customer's critical problem;

A

value delivery

model that never leaves your customers disappointed;

A

marketing program

that connects with the customers you most want;

A

sales process

that pulls it all together for your customers.
These elements come together to enable you to edge out the competition in crowded and competitive markets.
In short, it's a game-changer.
---
When you sharpen your competitive edge, you gain your ideal customers' attention and desire to work with you. And as a result, you enjoy:
Sales growth

because more customers

value

what you do

Stronger margins

because customers

prefer

to

buy from

you

Shorter sales cycles

because customers are

eager

to do business with you

Steady lead flow

because customers

learn

about you in compelling ways.
Sure, that all sounds great—but how am I supposed to work on it?

After all, you're busy running your business. Your team is already stretched thin. And you're already fully invested in a bunch of marketing and sales activities. How are you supposed to find the time to dig into your value proposition, value delivery, marketing, and sales all at once?
Don't worry. We've got you covered.
INTRODUCING
The Competitive Edge Program
---
We work with B2B leadership teams to design, deploy, and drive a competitive edge to win more and better business—in less than 12 months.
A "done with you" consulting engagement to help you win more and better business.
---
We work together closely with your leadership team, leveraging their industry expertise and our structured consulting process to help you grow sales, protect margins, shorten sales cycles, and increase lead flow.
Through the Competitive Edge Program, you and your team will:
Focus on your ideal customers' most significant challenges

Refine your value proposition and business model to address those challenges

Align your entire operation to support your value proposition

Develop a marketing approach that will increase lead flow

Ramp up your sales processes to convert more opportunities into sales
Bottom line: You will see real growth that comes from a winning strategy that you can actually get done.
I've worked with consultants—and they weren't that helpful. How is this any different?

We get it—paying big bucks for a "conversation" that doesn't lead to real change is frustrating. Our program is different because "real change" is part of the process.
The Competitive Edge Program is structured in three phases to help you and your team plan and execute a strategy that will grow your business.
In Phase 1, we help build a customized, strategic growth plan built around your competitive edge.

In Phases 2 & 3, you'll get the support you need to execute your plan and operationalize it across your business.
But more than that, the Program is designed from decades of experience working with real B2B business leaders through real growth challenges.
That means no "pie-in-the-sky" consultant-speak, heady models that don't translate into action, or wasted time telling you something you already know. We get to know your business, your team, and the resources you have available so that everything we create together is "right-sized" for your business.
We get that every business's needs, resources, and bandwidths are unique.
---
Our Program is divided into three phases: Design, Deploy, & Drive. Each phase can be completed in as little as 90 days or spread out over 6 months depending on your timeline. And while each phase builds on the last, you don't have to complete all three with us.
For example, maybe all your business needs is a clear strategic plan because you have the resources and bandwidth to execute it yourselves—you can complete Phase 1 and go on your way.
Want support turning your Strategic Plan into bite-sized projects for your team to execute? You can continue to work with us for Phase 2. Want to make sure every item of the plan gets executed and you're tracking your progress? Stick around for Phase 3.
In short, you're in control—you get to decide how much support you need, how quickly you want to move, and how deeply you wish to work with us.
Here's Exactly What You'll Do
Phase 1: Designing Your Edge

(90 - 180 days)
---
We know it's hard to get clarity on why sales are declining—and what to do about it.

In Phase 1, we guide you through the process of figuring out what's suboptimal about your value proposition, value delivery, marketing, and sales—and what you should do to strengthen each area to create your competitive edge. Then, we synthesize all of that info into a simple-to-execute Competitive Edge Strategic Plan.
Problems We Address
Dull value proposition that doesn't stand out from competitors
Inconsistent value delivery that disappoints customers
Underperforming marketing programs
Ineffective sales process that loses leads


The Process
We'll work with you and your team over twelve 90-minute work sessions to design your Competitive Edge Strategic Plan which will serve as the foundation for your growth. Sessions can be scheduled weekly or biweekly, depending on your team's availability.


The Outcome
Through the process of creating your Competitive Edge Strategic Plan, you and your team will have clarity on how to achieve:
Sales growth
Stronger margins
Shorter sales cycle
Steady lead flow
Phase 2: Deploying Your Strategy
(90 Days)
---
We know that even if you have the perfect strategic plan, it can be hard to execute it.


In Phase 2: Deploy, we work with your team to get granular on your Competitive Edge Strategic Plan to ensure it's executed with confidence and clarity.
We help create detailed project plans that your team can take ownership of, develop robust messaging guides for future marketing and sales initiatives, and implement pipeline and dashboard processes—so you'll have everything you need to get growth going again.

Problems We Address
Struggle to translate strategic ideas into do-able actions

Inaccurate process for revenue forecasting
Inability to guide key opportunities to competition
No way to measure, monitor, and improve key processes that impact growth
The Process
We work with you and your team over eleven 60-120 minute Zoom sessions to put your Competitive Edge Strategy into action through 4 detailed project plans and implementing 3 foundational processes.


The Outcome
Through the process of deploying your Competitive Edge Strategic Plan, you and your team will have clarity on who has to do what to bring your competitive edge to the forefront of your growth initiatives, from marketing and sales to operations.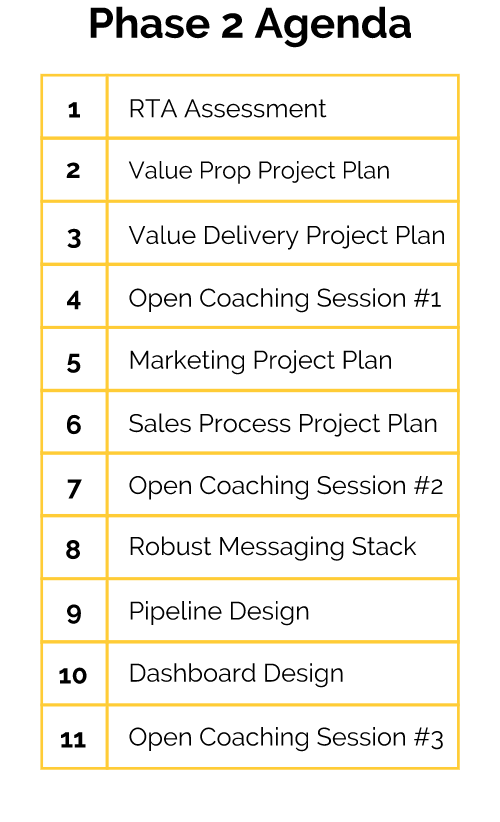 Phase 3: Driving Your Growth
(90 Days)
---
We know that enthusiasm can only take you so far and that staying on task day-to-day is often the biggest challenge.


In Phase 3: Drive, we work with you and your team to take your project plans and make them fully operational. We help you implement progress-tracking processes and a simple monthly meeting structure—so you can take the reins and know that you're driving progress.

Problems We Address
Lack of follow-through to get Strategic Plan operationalized

No process for "course-correcting"

Confusion over ownership and timelines

Loss of enthusiasm around growth
The Process
We work with you and your team over eleven 60-120-minute sessions to make your Competitive Edge Strategy a routine part of your operational reality. In 3 months, we will model a Drive Meeting to track progress in each of the four dimensions of your Competitive Edge.


The Outcome
Through the process of driving this Strategy, you and your team will become confident on how to bring your competitive edge to the forefront of your growth initiatives, from marketing and sales to operations.
Want to learn more?
Schedule a quick Discovery Call. We'll talk about your business's needs and whether the Competitive Edge Program would be the right fit.
Get Started with a Discovery Call
How much does the Program cost?
---
Each phase of the program is $15K and is paid in three monthly installments of $5K.
All engagements begin with Phase 1: Design, but you're never obligated to continue on to the next phases. It's up to you how much support you want. That means you can expect to invest:
$15K for Phase 1

$30K for Phase 1 and 2

$45K for Phase 1, 2, and 3
And remember, each Phase is paid for over $5K installments, which means your initial risk is very low. But it gets even better...
What if the Program isn't a right fit?

We know how frustrating it is to invest time and money into a third-party resource that isn't a fit—which is why our Program is covered by two types of risk reversal.
1. Try Us Risk-Free for 30 Days
You don't pay the first installment of Phase 1 until after the first 30 days of the Competitive Edge Program. If you don't think the program is a right fit - let us know and we'll part as friends and you don't owe us anything.
2. Cancel at Any Time
We know that sometimes other fires pop up that take priority for your time and finances. For the life of your engagement with us, we offer a simple "anytime cancellation" policy. If for any reason, you can't or don't wish to continue working with us, just let us know and we'll cancel your remaining payments. It really is that simple.
But you're already spending a lot on sales and marketing activities, right?
---
If you're dedicated to growing your business, you're probably already investing in sales and marketing activities. But here's the question...
Are you seeing the growth you want from your current investments?
Sales and marketing are external expressions of your internal strategy, planning, and processes. If those "internals" aren't focused to give you a competitive edge, no amount of investment will grow your business.
That's why the Competitive Edge Program begins with developing the right strategy to give you an advantage in the market. Only after you have a strategy does it become clear what your investments should be.
"The principles of Value Prop have been game-changers for us. Their training, coaching, and support have helped us weather the current storm and find growth we didn't think was possible."
Terry McBride
Vice President, Burns & McBride, Inc.

If you're looking to drive even 10% growth on, say, a $5 million business, that means adding $500,000 to your top line. Each phase of the program is $15K—and you don't even have to complete all three phases with us. To invest $15-45K with us to achieve that goal is actually a rather modest investment considering what's at stake.
Frequently Asked Questions
Why should I trust you with my business?

Value Prop is a strategy, marketing, and sales consultancy with decades of experience helping mid-sized B2B companies find new growth. We've engaged with hundreds of B2B business owners, CEOs, and leadership teams across a wide variety of industries, from IT to professional services to industrial manufacturing, including:
Our process is structured, yet flexible—designed to give you efficient results without hemming you in with a "one-size-fits-all" solution. Our approach is confident, yet collaborative—you know your business, we know growth. And, above all, our aim is to give you the support and guidance your business needs to gain a true edge in your market.
"Value Prop has been vital to our business success by keeping us focused on driving revenue. With their help, we increased the valuation of one of our divisions, leading to its successful sale."
John McNeely
CEO, Spec-Rite Systems, Inc.
Who will we be working with?
Meet Our CEO
When you engage in the Competitive Edge Program, you will work closely with Value Prop CEO, Jose Palomino. Over his decades of consulting experience, Jose has unlocked over $250 million in new growth for dozens of companies—including SAP, Salesforce, U.S. Axle, Royal Building Products, and many others.
Jose earned his MBA from the Villanova School of Business and now teaches Entrepreneurial Marketing for MBA candidates there. He is the author of the seminal book, Value Prop: Create Powerful I3 Value Propositions to Enter and Win New Markets, host of the Revenue Throughput Podcast, and a keynote speaker.
But above all, Jose truly enjoys helping small and mid-market companies leverage their entrepreneurial smarts to win in competitive markets.
"Value Prop created tremendous value and results. Jose Palomino is a proven leader with an extraordinary background who brings real-world experience to marketing and sales concepts."
Jim Rich
Area Vice President, Salesforce.com
This seems like a lot. Does it have to be this involved?

Your competitive edge is more than a zippy tagline or a fresh marketing campaign. If that's what you're looking for, then this program isn't for you.
Your competitive edge gets to the heart of what you do, how you're unique, why customers should care, and whether you're delivering on your promises. If you lack clarity on any of that—or are struggling to live it out across your marketing, sales, and operations—then, yes, it will take some dedicated time and effort.
But luckily, through the Competitive Edge Program, we make the work manageable. We break down designing, deploying, and driving your competitive edge into three phases that you can complete in as little as 9 months. And the best part? You get to decide how deeply involved you want us to be.
You can just do Phase 1 to get your Competitive Edge Strategic Plan and execute it yourself. You can do Phase 1 & 2 to get your Competitive Edge Strategic Plan and support to execute it efficiently. Or you can do all three phases with us to go from planning to execution to operationalization in less than a year. It's up to you.
"Jose Palomino is a problem solver. It's truly remarkable how he can synthesize information into a perfect, ready-to-go solution. Within three days, I secured two large-scale accounts using his guidance."
Bruce Leto, Jr.
Partner, Dynamic Wave Consulting
We're really busy. I don't know if we have the bandwidth for another program.

We know you're busy running your business. That's why our Program is designed to run on your timeline. While each phase can be completed in 90 days, we offer scheduling flexibility—meaning you can schedule the work sessions at a pace that works for your team, whether that's every week, every other week, or more.
During our work sessions, we actually create your strategy, make tactical decisions, and focus on the things that need focusing on in real-time while we're together. In between sessions, there may be 1-2 hours of "homework" for somebody on your team to work on. By doing this, we ensure that we're using our time together with the greatest efficiency.
"Value Prop expanded the thinking of everybody in the room. They gave us new ways to leverage our resources, to have more productive conversations with prospects, and to deepen our existing book of business—while continuing to add to it as well."
Jeff Cabbage
Vice President of U.S. Sales, Royal Building Products
What if I already know what sets us apart?


That's great! It means you're paying attention to your business and your competitors.
The question is—do your customers know what sets you apart? Do they care about it? Does your entire organization—from reception to sales to operations—understand what sets you apart? Do they believe it?
By going through the Competitive Edge Program, you and your team will get:
Clarity on what sets you apart from your competitors
Confidence that you're truly embodying that difference in your customer's experience
And a clear game plan of how you're going to consistently communicate that edge to your market
It's not enough to just know what makes your business and its offerings unique. You need to make sure that your operations are delivering on the promises of your value proposition; that your marketing is effective at creating opportunities, and that your sales process converts those opportunities into customers who want to do business with you.
"Value Prop has been invaluable in helping our business improve our sales effectiveness and marketing consistency. With the help of Jose Palomino, we have been able to extend our leadership in the national healthcare multimedia arena."
Richard Van Fleet
President, Creative MediaWorks, Inc.
You're not in my industry—how are you going to figure out our competitive edge?

If you're in B2B—especially in manufacturing, professional services, or IT/Software categories—chances are we've done deep work in your industry before.
But even if your industry is new to us, it doesn't really matter—because our process is about honing the decades of industry expertise you and your team possess and leveraging that knowledge to create your competitive edge.
Your experience with our proven process are the formula for your success.
"Jose is one of the smartest sales and marketing minds I have ever worked with."
Mark Feffer
Editor and Publisher, HCM Technology Report
What Sets the Program Apart
Our program is made for mid-market B2B's, hungry for growth.
---

The Competitive Edge Program is designed especially for small and mid-market B2B companies across a variety of industries. If your business:
Sells products or services that require multiple shareholders' buy-in
Has a leadership team that juggles many "hats"
Is in a competitive, commodity market
And that has been struggling to grow sales while defending your margins...
Then this program is for you. Here's why.
1. You'll have a real advantage in the marketplace.

Unlike many other excellent programs that focus on making yours a better-run company (e.g., EOS, Scaling Up, e-Myth, Vistage, EO, etc.), the Competitive Edge Program is focused on one thing: giving your company a real advantage in the marketplace.
And not an advantage that's "surface level" or easily replicated by your competitors. An advantage based on a sharp value proposition, excellent value delivery, marketing that creates opportunities, and a sales process that converts opportunities into long-term customers.
2. You'll see real progress, not just "talk".

The Competitive Edge Program provides a framework that prioritizes action, is backed with real expertise, and is delivered in a format that is flexible and super time-efficient to create great results.
"Jose produced real-world changes for us. From concept to nuts and bolts, Jose showed us how to grow our business."
John Szal
Founder and President of Spherical Concepts Inc.
3. You'll watch your team organize around growth.

The Program is organized around shorter meetings (we call these "work sessions"), each focused on one main topic. In this way, we can go deep and fast over the critical issues that need to be processed to create a Competitive Edge.
By having shorter and regular meetings, everyone's schedules can be more easily accommodated - and progress is continual. This is much better than trying to cram a lot of information and discussion into just a few exhausting days. With our approach, leadership can engage deeply and still manage their day-to-day responsibilities.
4. You'll have an expert in your corner.

Value Prop founder, Jose Palomino, has a reputation for breaking down complex issues into manageable - and improvable - parts. This program leverages his experience and expertise to create an ideal framework for your company's growth.
"Palomino's ideas are pure gold—no, even more valuable."
Jay Conrad Levinson
Bestselling Author of the Guerilla Marketing series
Ready to take the next step? Let's talk.
Schedule a quick Discovery Call. We'll talk about your business's needs and whether the Competitive Edge Program would be the right fit.
Schedule a Discovery Call